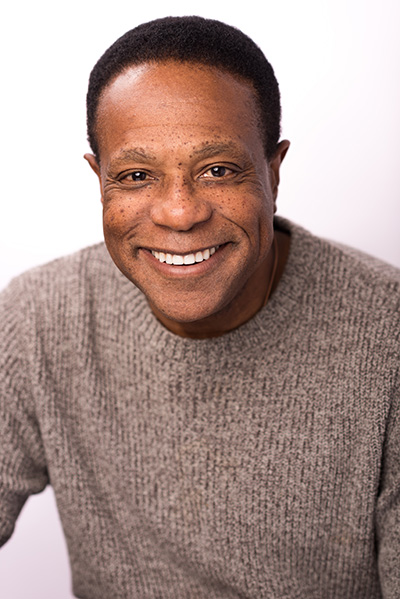 Brian Copeland is an award-winning actor, comedian, author, playwright, television and radio talk show host based in the San Francisco Bay Area. He began his career in standup at the tender age of 18 performing in comedy venues in San Francisco. Soon he was traveling the country opening for such legendary performers as Smokey Robinson, Aretha Franklin, Dionne Warwick, Ray Charles, The Temptations, Natalie Cole, Julio Iglesias, Ringo Starr and Gladys Knight. Copeland performed his brand of biting, cutting edge social commentary in venues including the Universal Amphitheater and Constitution Hall in Washington, D.C.
In 2004, Copeland debuted his first one-man play, "Not a Genuine Black Man," at the Marsh in San Francisco. The play explored his childhood experiences as a member of one of the only African American families living in the then 94% white suburb of San Leandro, California. His tale of laughter, tears, and sociology went on to become the longest-running solo show in San Francisco theatrical history with over 900 performances. The show has been performed in over 30 cities, including a critically acclaimed run Off-Broadway. The play is currently in television series development. In 2006, Copeland published a best-selling book based on "Genuine" that is now required reading in several high schools and colleges across the country. The book was the 2009 pick for Silicon Valley Reads, a library-based program in which all of Santa Clara County reads the same book simultaneously.
To date, he has written and performed three subsequent critically acclaimed solo plays including "The Waiting Period" (2015 Theater Bay Area Award for Outstanding Production of a Solo Play), the hit Christmas show "The Jewelry Box," and "The Scion" (PBS affiliate KQED's Best New Play of 2014). In 2019, Copeland partnered with legendary solo performer Charlie Varon ("Rush Limbaugh in Night School") to create "The Great American Sh*t Show": monologues on the age of Trump. The show played to sold-out houses until the onset of the Covid pandemic. The show received effusive praise from critics an audiences alike. His new play, "Grandma & Me: An Ode to Single Parents," debuted in 2022.
In addition to his stage work, Copeland is a fixture in Bay Area broadcasting, where he has hosted programs on just about every television station, including KTVU (a five-year stint as cohost of "Mornings on 2"), ABC7 (host of the Emmy award-winning "7Live") and KNTV (the hit 2015 late night special "Now Brian Copeland"). He has also performed on MTV, A&E, NBC, VH1 and Comedy Central.
In 2006, Director Rob Reiner (a fan of "Genuine") cast Copeland as Lee Chambers, the youngest son of Morgan Freeman, in the instant classic, "The Bucket List." In 2020, Copeland won the supporting role as a reporter in the Sony/Marvel superhero sequel "Venom/Let There Be Carnage."