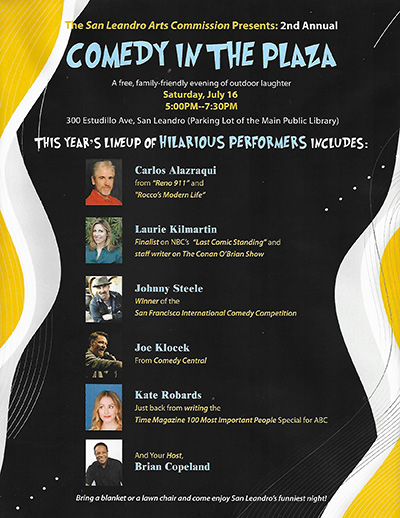 ComEDY IN THE PLAZA
In partnership with the City of San Leandro and the San Leandro Arts Commission, Brian Copeland is producing the second annual Comedy in the Plaza, a free public event. The event features some of Copeland's favorite comedians, including Carlos Alazraqui ("Reno 911"), Laurie Kilmartin ("Last Comic Standing" finalist and "The Conan O'Brien Show" staff writer), Joe Klocek ("Comedy Central"), Kate Robards (writer for "TIME Magazine 100 Most Important People," an ABC Special), Johnny Steele (Winner of San Francisco International Comedy Competition), and Brian Copeland. The event will take place at the outdoor plaza of the San Leandro Main Library, located at 300 Estudillo Avenue, in downtown San Leandro.
Street parking is available nearby, and it is strongly recommended to arrive early to secure a good spot with a blanket or low-back lawn chair.
Saturday, July 16, 2022
5-7:30 PM
300 Estudillo Ave. (Parking Lot of the Public Library)
San Leandro, CA
---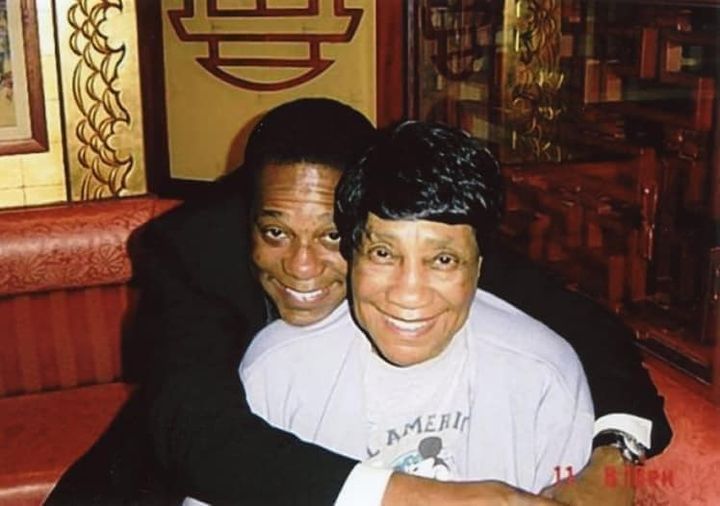 GRANDMA and ME: AN ODE TO SINGLE PARENTS
Raising a child alone is a struggle.
Raising multiple children alone is an odyssey.
In 1979, Brian Copeland's mother died suddenly, leaving behind 5 children for his 57-year-old grandmother to raise alone. 22 years later, Brian finds himself in the same predicament when the end of a marriage leaves him alone with his three kids. Through laughter and tears, he compares and contrasts trials of single parenting in the 1970s and the dawn of the 21st century as he tries to answer the question… What does it truly mean to be a father?
"Grandma and Me" will be opening at the Marsh in the fall, but you can catch a staged reading in Alameda:
Friday, July 29, 2022
8 PM
Altarena Playhouse
Alameda, CA
Buy tickets