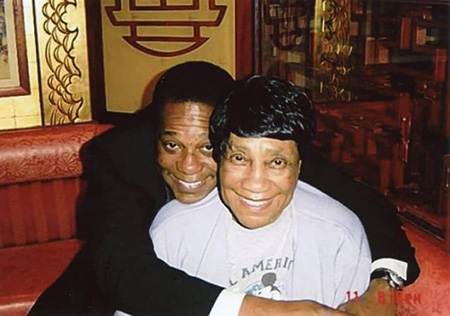 "Grandma and Me: An Ode To Single Parents"
Raising a child alone is a struggle.
Raising multiple children alone is an odyssey.
In 1979, Brian Copeland's mother died suddenly, leaving behind 5 children for his 57-year-old grandmother to raise alone. 22 years later, Brian finds himself in the same predicament when the end of a marriage leaves him alone with his three kids. Through laughter and tears, he compares and contrasts trials of single parenting in the 1970s and the dawn of the 21st century as he tries to answer the question… What does it truly mean to be a father?
"Hits that sweet spot between funny and moving… [Copeland is] a preternaturally gifted entertainer and storyteller with a deep well of empathy at his core."
—Jim Munson, Broadway World
---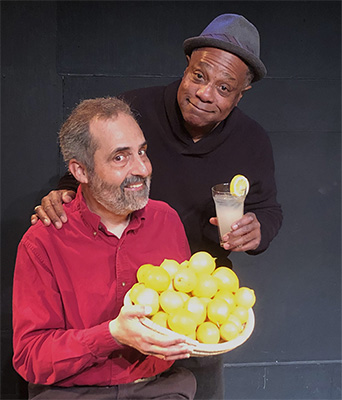 "THE GREAT AMERICAN SHIT SHOW"
Solo performance stars Brian Copeland and Charlie Varon join forces to present new monologues on the life in the Age of Trump. An evening of laughing and thinking, covering topics including how to deal with a family member who's all in for the Donald when you're not, trying to turn red congressional seats blue, #MeToo and more. If you like Trump, you'll hate this show!
"Smart, funny, provocative… this is theater as a welcome dash of hope in dark times and a much needed call to arms. GASS packs a lot of bracing punch into a highly entertaining 90 minutes. This may be the perfect piece of theater for our times."
—Rob Hurwitt, former San Francisco Chronicle theater critic
---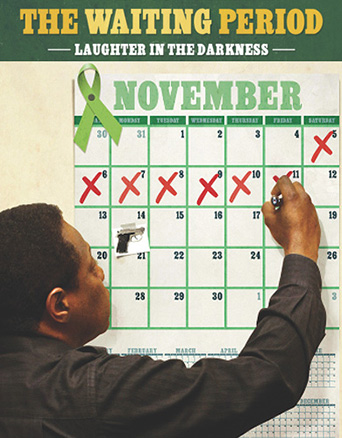 "THE WAITING PERIOD"
This show is an unrelenting look at a ten-day period in Copeland's life—the mandatory ten-day waiting period before he could lay his hands on the newly purchased gun with which he planned to take his own life.
Even in the midst of this tragedy, however, his wonderful sense of the comedy of life does not desert him (how much should he spend on the gun?), indeed serves him insidiously well as a buffer against the grim reality of his intention. Copeland hopes this very personal, and ultimately redemptive, story will reach people who struggle with depression—often called the last stigmatized disease—as well as their families and loved ones.
Interspersed with interviews with other sufferers, the play also offers outsiders an insider's view, thereby expanding our understanding and, hopefully, our humanity.
Winner, 2015 Theater Bay Area Award for Outstanding Production of a Solo Play
"As astonishingly funny as it is brutally honest—and all of it is admirably courageous, urgent and yet charmingly told."
—Robert Hurwitt, San Francisco Chronicle
"It's a play I'd strongly recommend to anyone who is now or has ever been depressed or who knows someone in that situation. But honestly, it's such a strong piece that I'd recommend it just as heartily to anyone who's ever been human."
—Sam Hurwitt, The Idiolect
---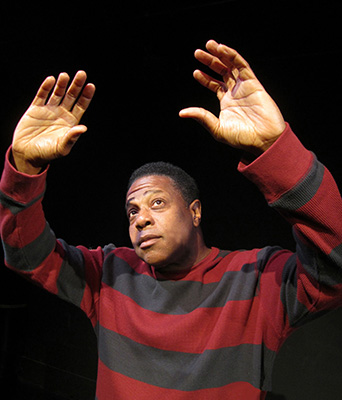 "THE JEWELRY BOX"
In this hilarious and heartwarming prequel to his hit show "Not a Genuine Black Man," beloved actor-playwright Brian Copeland recounts two memorable weeks in his youth when he took to the "mean streets" of Oakland to buy his mom the perfect Christmas gift. Rife with references to 1970s Oakland, "The Jewelry Box" follows six-year-old Brian's adventures as he scours the help-wanted ads, applies for jobs and collects bottles, inching his way toward the coveted present, a jewelry box at the Hegenberger White Front store.
"Destined to be a holiday classic!"
—SF Examiner
"'The Jewelry Box' is a gift in itself… it glitters with bright comedy, sharply observed local color and deftly drawn characters as well as genuine warmth."
—San Francisco Chronicle
"Brian Copeland is our master story-teller. His gift to audiences during the holidays, 'The Jewelry Box,' offers a treasure chest of wit, warmth, and wisdom… Every word counts in Copeland's masterful 70-minute show… He presents a brilliant array of lovable characters—with warmth and compassion. Copeland weaves them all into a heartwarming show, creating an instant classic, an American 'Christmas Carol.'"
—Barry David Horwitz, Theatrius
---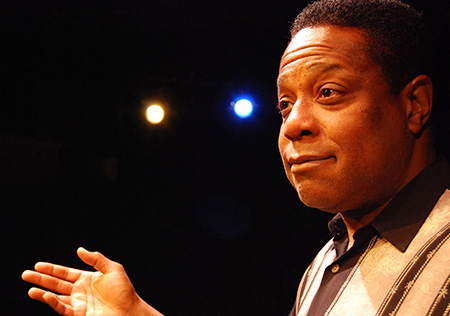 "THE SCION"
In 2000, Stuart Alexander, owner of Santos Linguisa Factory, murdered three state and USDA meat compliance officials after he claimed they were harassing his business. In this riveting one-man show, Brian Copeland explores the events surrounding the triple homicide and the uneasy relationship between the law and those who believe they are born above it.
Delivered with Copeland's signature style, "The Scion" skillfully tiptoes the line between comedy and tragedy, adding a dash of humor to this riveting subject matter.
KQED's Best New Play of 2014
"Copeland Scores Again"
—San Francisco Examiner
"His solo form is artful and his storytelling chops are as sharp as ever."
—East Bay Express
---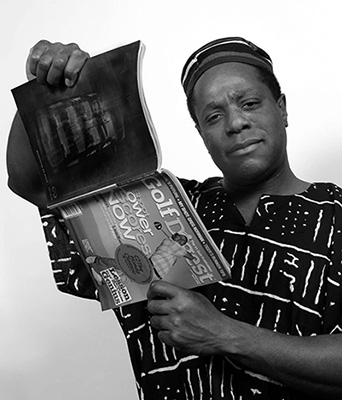 "NOT A GENUINE BLACK MAN"
In 1971, Fair Housing advocates considered San Leandro was named one of the most racist suburbs in America. CBS aired a special in the situation. The U.S. Commission on Civil Rights conducted hearings. The next year, eight-year-old Copeland and his African-American family moved in. In an evening of laughter, tears and sociology, "Not a Genuine Black Man" is a hilarious and insightful look at Bay Area history, and at the ways in which our upbringings make us who we are.
"Not a Genuine Black Man" broke records as the longest-running solo show in San Francisco history and brought Copeland critical acclaim as one of the city's most talented and engaging solo performers.
"A beautiful mix of wry humor and heartbreak, indignation and inspiration, a singular story of extreme isolation that speaks to anyone who's ever felt out of place."
—San Francisco Chronicle
"With agility, Copeland plays over 20 characters in the two-hour show including himself, himself as an 8-year-old, his mother, his sister, his grandmother, his son, his father, his landlord, 3 policemen, 2 lawyers, his father, a waitress, a pastor of an all-white church, a hate-letter writer, two white teenaged racists and several irate neighbors. He also fragments the narrative in time, flashing back and forth between his childhood and his current status as a successful performer, family man and business man. And he keeps it all together for the audience… The drama includes genuinely tragic moments relieved frequently with inside jokes. The show has range, turning corners abruptly, humor and success sharply juxtaposed with failure and depression. He is a talented comedian but this is not two hours of stand up. The man has a lived sense of the tragic."
—San Francisco Examiner
"A vibrant charge of original talent slices through 'Not a Genuine Black Man'… the pin-drop silences elicited by Copeland's depictions of violence and bigotry indicate a sage social observer… Copeland's ability to captivate an audience rivals many a celebrated solo predecessor, from Ruth Draper to Spalding Gray to Whoopi Goldberg. This aspect, coupled with the clear-eyed view of racial realities, propels 'Not a Genuine Black Man,' because Copeland is a genuine discovery."
—Los Angeles Times
"As directed by Bob Balaban, this one-man show has a motormouth verbal energy and an appealing emotional honesty. Copeland moves past the distracting rhythms of standup comedy early in the show to let his gift for ambiguity take over."
—The New Yorker
"Copeland… is a genial, accomplished raconteur, able to switch back and forth between the characters in his show… [His] success becomes one of the show's themes, particularly in the way other blacks have responded to his having made it. Some made the accusation that became the title of his show 'Not a Genuine Black Man.' 'If you're talking about pigment, then, yes, clearly I am black,' Copeland says at one point. 'If you're talking about some cultural delineation, I don't know.' The man refuses to be categorized. And it is that refusal to be stereotyped that makes 'Not a Genuine Black Man' such an intriguing and entertaining evening."
—Associated Press
"Copeland's rightfully popular one-man show is wrought from pain and rage, but never really succumbs to bitterness… With help from declarative lighting and David Ford's direction, Copeland creates an affecting hybrid of the dramatic monologue and the rollicking stand-up act."
—San Francisco Weekly
"As the show began, the hairs on the back of my neck began to bristle to attention almost immediately, as Copeland explained that the piece got its title from a letter he received from a radio fan. The man had complained that Copeland was 'not a genuine black man' because of the way he spoke. Ten minutes into the performance, I was hooked. Not only was this wonderfully written and performed solo theater, it was a captivating and frightening tale of territory you thought you knew so well. Within 15 minutes, I was convinced I was witnessing something very big happening. Looking back from the perspective of more than a year, I was."
—Contra Costa Times
"Brian Copeland's brilliant 'Not a Genuine Black Man' will have you laughing and crying. Copeland's 'Not a Genuine Black Man' holds the record for the longest running solo show in San Francisco history, and after seeing its Burbank preview, I can see why… Copeland brilliantly portrays a host of characters involved in his life. In addition to his 8-year-old and grown up self, there's his feisty, foul mouthed, no-nonsense grandmother, his dignified, elegant mother (who insists she was born in Providence, RI even though she's actually from Alabama), his bratty little sister and abusive father. There are also the landlords, building supers, cops, lawyers and judges all making the family's struggle to stay in their San Leandro apartment almost impossible due to the color of their skin… Copeland tells his story with wit and self-deprecating humor. It will have you laughing and crying while learning a little sociology. I highly recommend it."
—Tolucan Times